Thanks to your feedback and our amazing development team, ScribeCount is pleased to announce the addition of Smashwords to the list of platforms we automatically report from.
Before we get into the details, I'd like to thank everyone at the Wide for the Win Facebook page, with a special shout out to Patti Larson. Without their valuable input, time, and sharing of information, this would have been many times harder to construct.
Our mantra so far has been that, with each new platform, we learn new things as well – and, wow, did Smashwords deliver on that.
For one thing, so far, all of the platforms shown on ScribeCount have been either distributors or platforms. Smashwords is both!
In addition, having Smashwords on the ScribeCount dashboard increased the available platforms from 23…to 40. Some of them are libraries, others are streaming type services, and some overlap with platforms we already accessed, while others are available only via Smashwords.
In addition, like every platform, Smashwords has its own way of showing data. There is a more detailed explanation below, but this is the headline:
The daily data and royalties at Smashwords are derived via a series of algorithms, and may shift slightly at month end due to platform-specific sales, etc.
NOTE: Some of you will need to update your browser extension. Most should happen automatically, but for those who have that setting off you'll have to do so manually. The newest extension is 1.3.9.4.
So, let's do a quick tour!
We'll start where every platform starts, the Settings page. Here you will find the Smashwords logo now listed. You'll need to enable it as you do the others if you wish to see that data included in your reports.

Once you have synced your accounts and established a link your data will be automatically uploaded and presented in every ScribeCount feature. Huzzah!
Smashwords will now be listed in the Platforms dropdown on the Dashboard.

If enabled and selected, you will see it represented in the Sunburst graphic, with the default looking like this: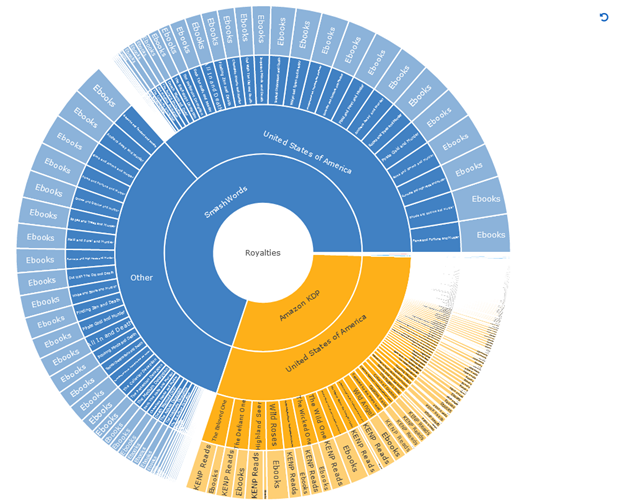 You will notice that the Platform ring says simply Smashwords. The next ring will show what geographical market your Smashwords books were sold in, with totals to the right of the chart.
However, just as with Draft2Digital, you have the option to see your sales split out by the individual platform – Apple via Smashwords, Overdrive via Smashwords, Smashwords direct, etc. If you wish to see the individual platforms that Smashwords sells your books on, you can, it just requires a visit to the settings page first.

Click on the General page. Once you do you'll see a few options.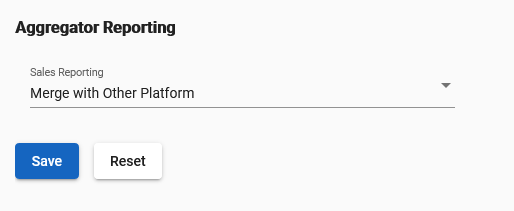 Under this dropdown you'll have the options of "Individual Platforms" which is what the chart is showing now, or "Merge with other Platforms" which is where we want to go. Click your choice and then click SAVE before returning to the dashboard.
Our sample chart now looks like this: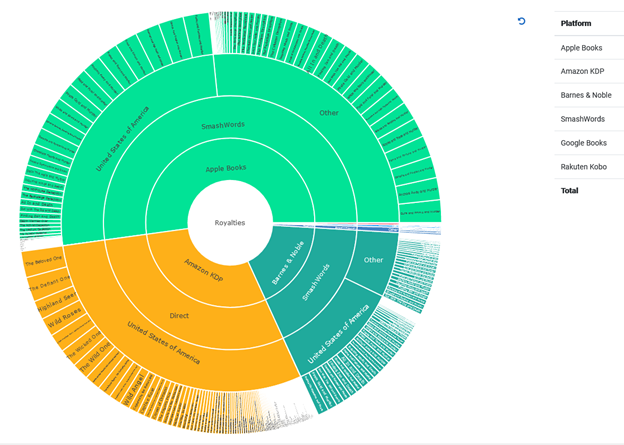 As you can see, the sales now show the platform that was the user's point of sale, along with an indication that Smashwords was the distributor. This author moves the majority of their books through Smashwords via Apple, but if you look closely you can see the other platforms, including Smashwords itself, represented in the smaller slices.
Both Sunburst charts remain interactive. You can click on the various sections and they will morph to provide the data you wish to see. Totals will appear to the right respective of what the Sunburst is showing.
If, at any time, you wish to stop seeing the data split out, you can return to the settings page and reset your distributor settings to "Individual Platforms."
Above, we mentioned the data, and we wanted to include a more detailed explanation for those of you who enjoy those things. Smashwords, due to its reach of platforms, types of services, and joint listing as both platform and distributor, offers several different data sets, all of which need to be considered together in order to get a picture of the whole.
Some Smashwords platforms sell books (example: Barnes and Noble), some platforms are subscription services that pay by the percentage of the book that's read (example Scribd), others are libraries who only report sales monthly or quarterly, and still others are foreign markets that require conversion rates to come into play. Many of these platforms do not tell us the conversion rate, so we need to make an educated guess until the payment report comes in and we can then retroactively adjust it.
Then, as with Draft2Digital, there are the various royalty rates for each platform, as well as the distribution fee.
As Smashwords synthesizes all of this data to present to the author, giving the most up-to-date numbers from dozens of sources, the daily information provided is in units, not in royalties (as many of you know who crunch your own numbers from Smashwords). Working back from units to royalties is not a trivial undertaking if you're doing it by hand, which is why we're happy to say that our developers came up winners once again!
The data needed is there, after all—just in several places! By cross-referencing several reports, we are able to provide a daily royalty count and number that is very accurate.
Standing in the way of 100% accuracy are: platform-specific promos, yet-to-be-determined conversion rates, lagging data from returns, and more. But the data are the most up-to-date data provided to Smashwords—and, thus, to ScribeCount if you have Smashwords enabled.
That all said, we highly recommend that you watch the video (Link on the Homepage) and try the two options we offer for viewing your Smashwords data before settling in on a choice.
Any questions can be directed to Philippa via the Support tab, we'll do our best to answer them as quickly as possible.
Thank you all for using ScribeCount and helping us to make it grow. Next up is Ingram Spark and Findaway Voices. We're going to try and develop both platforms at once this time. Due to the complexity of Ingram you will probably see Findaway first. We'll try and keep everyone posted on our progress.
One last thing. The Smashwords update is still in beta and has not been tested on a large volume of accounts yet. We fully expect to run into issues that were not present during our initial trials. It would help us all a great deal if you were to alert us to issues you are seeing via the support tab. As always, screenshots are a big help. We thank you-thank-you in advance for the help!
And that's it. Please join us as we give a big ScribeCount welcome to Smashwords.
PS:
To validate your Smashwords daily sales please follow these steps.
1- Sign into your Smashwords account and travel to the Dashboard.
2- Click on "Daily Sales"
3- Check with "Free Downloads" and "Paid Sales".
4- Click "Download Free Books and Retailer Details for last 30 days" and "Download Paid Books and Retailer Details for last 30 days"
5- Compare this information with your ScribeCount report.
Update: For those of you using Chrome, Google is asking for your permission to update the extension. There's no reason to be concerned, its just Google being Google. Select "update permissions" and the extension will do so.
1- Remove extension and install again
2- Right click on SC extension, then click on 3 dots.
3-  Select Manage extension
4- Enable the extension and also enable all permissions
Sorry for the extra steps,