Hello everyone, Randall from ScribeCount.
Thought I would drop you a note and let you know where we are.
There's been a lot of changes and a lot of additions to ScribeCount in the last few months.
First thing everyone will want to know is our new pricing. We've adjusted our tiers so that authors earning 0-1,000 a month are now free, 1,000-2,000 are $15/m, and anyone over $2,000 is $20/m. We've also added a yearly option for $185/yr, which works out to $15/m. So now we meet or beat BookReport on pricing.
We've also created a KU Dashboard. We've combined the best features from the various sources out there and did the UI based on user feedback, so it may not reflect what you personally would prioritize, but it's based on what your peers asked for. Now we're adding our own ideas to it.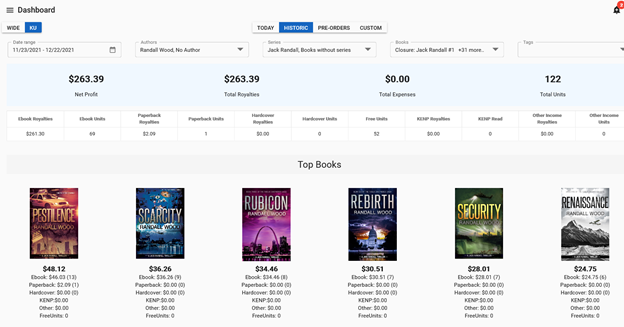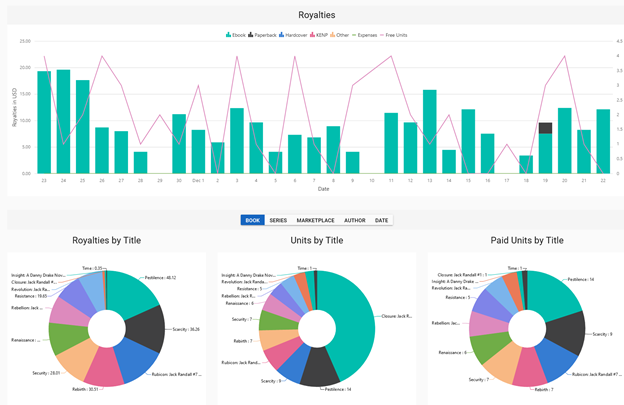 We now have everything that BookReport has and more. The "more" part is growing fast, we've been adding new features about every two weeks lately.
Reviews. We pull them from every platform (Amazon, Apple, Google, B&N, Kobo, D2D, and Smash) so if you're in Select, but also do print everywhere, those numbers will be included in the Dashboard.

Right now you can sort by platform, books (and series, IP, Pen name, Universe, whatever if you use the tagging feature we include) and from there by most positive, most negative, and most recent. Soon we'll be adding a "sort by star rating" as many people asked me for that at NINC. We're going to add to that by offering a "WordCloud" feature that will scrape the text from all your reviews and give you a cloud for keyword and genre help.
Pre-orders. We added this last month and its in beta with .com and .uk at the moment. Once we have the testing done we'll add the rest of the Zon marketplaces. Once all Zon markets are done we'll move on to the other platforms. It breaks down like this:
Pre-Orders: (Summary, Details)
Summary: Title, Start Date, End Date, Units Net of Cancellation
Details: Book Selection, ASIN, Title, Author, Start Date, End Date, Units Net of Cancellation
Bar chart over time.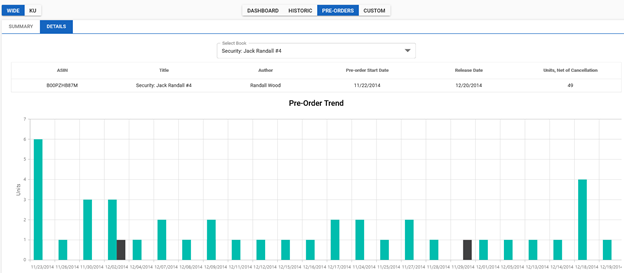 Rank tracking. We do ranks by Current, Best, Ranks by Book, Ranks vs Sales, Ranks by Series, and you can adjust those columns any way you wish.

KU Status: We monitor your KU status checkbox and alert you to any changes. This was another request from people tired of Zon changing their status without telling them and screwing up moves to Wide and/or promotions. It tells you the current enrollment status, start date, end date, and the time left in the 90-day window. If that changes for any reason you'll get an alert in your dashboard and the daily email we send out. (we're pushing that this weekend and yes, it's optional and you get to pick the time it comes.

Price Tracking: We monitor all your prices and alert you to any changes much like we do the KU Status tracker. This is for both Zon's sudden changes and to detect pirate activity. You'll see the previous price, current price, and how long that price has been in effect. There's also a Historic Price vs Date chart that you can filter the usual dozen ways we offer.

Book Details: Each book has its own details page complete with its own charts. It breaks down like this:
- Title, Author, Series Name, KENP Count, Platform(s), Color code. Links to store page(s)
- Sales Summary, Merged, Income, Expense, Ratings, Recent Reviews
- Spreadsheet (Date Range, Platform(s), Net Profit, Total Royalties, Total Expenses, Total Units, Ebook-Royalties, Ebook-Units, PB-R, PB-U, HC-R, HC-U, Free, KENP-R, Other Income-R, Other Income-U.
- Three Donut Charts: Platform, Marketplace, Date Range
- Spreadsheet (Platform, Total-Royalties, Total-Expenses, Ebook, PB, HC, KENP, Kobo Plus, Other. All R&U.
- Manage Series
- Manage Tags
- Merge Books
- Ghost Books
- Bulk Edit titles
- Manage KENP Count (You can adjust to see the rate you wish)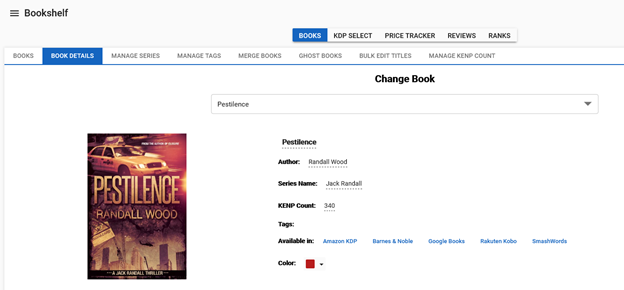 Note: We display your covers on the dashboard but the link goes to the internal Book Detail page. From there you will have links to ALL that books pages on every marketplace you use.
Note II: KENP Count. We have it the same as BookReport does but we'll soon be adding a Page Reads to Full Reads calculator. Depending on your choice the charts will adjust to show what you want to see. This will use the number that Amazon assigns your book but you have the option to change that if you don't agree with it. Hoping to have that out next month.
Category tracking is something we looked at but it's HUGE and would seriously put a dent in the Server bill. We haven't ruled it out but we'll need to finish some other things before we can even think about adding that. Still, we're eyeballing it.
We've adjusted the dashboard to fit user feedback and it turns out the majority of you like the graphics. We did move the map to the bottom though and are planning on making the various "tiles" movable at a later date. New features and platforms are the priority so that may take a while to get done. Eventually, you'll be able to construct your own dashboard, move things to where you want them and make them stick. We want to add a few features and platforms before we do this.
On that subject, we're adding Audible and Findaway next. Both got delayed due to pending litigation and the sale of Findaway to Spotify. Working on Ingram but gawd it's a nightmare. Also adding more KU-centric features.
All the stuff I've mentioned here is in addition to the WIDE features we already have. You can pick what dashboard serves you best and make it sticky, but also toggle back and forth if needed. Subscriptions are all-inclusive, there's no extra costs for anything.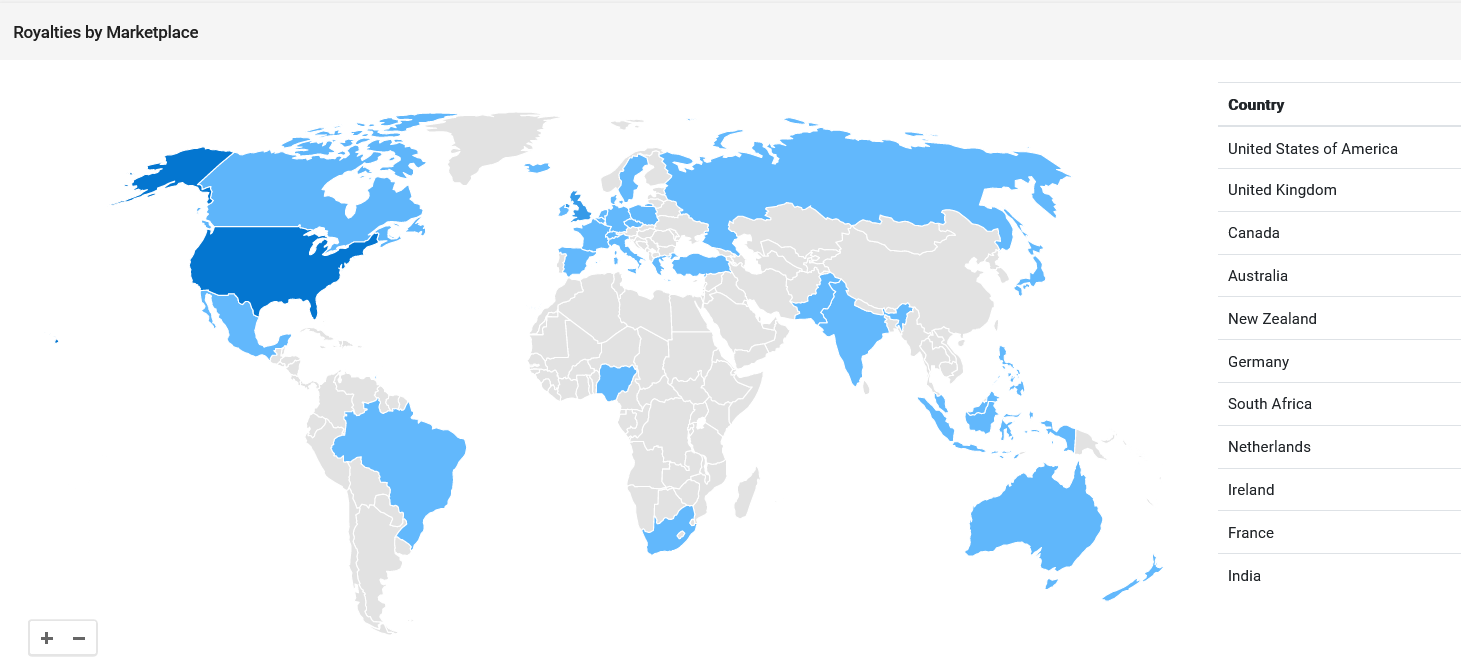 Did I mention there are spreadsheets for everything? There are, and they're all printable. There are also custom spreadsheets if that's what you prefer. Bulk import. Expense and income tracking. Etc. It's in there.
Next on the to-do list: Ad tracking. We're starting with Zon and FaceBook and then moving on to BookBub. That will include both push and pull features as well as some A.I. and various metrics to help the authors determine how their marketing is performing. Yes, we'll have a link tracking feature. A few months out on this but it's looking really good.
Anyway, this is getting long and I could easily go on for pages as that's how much stuff we have now. So if you haven't checked us out yet please come give us a try and tell me what we're doing wrong. We still have a FREE two-week trial. If you signed up before and let that trial expire just let me know you want to extend it and I'll get it reset.
Did I mention the affiliate program? There's an affiliate program. There are also discounts for members of NINC, Alli, and D2D.
Let us know, I'm interested in what you all think,
Randall